Earthquake in the Early Morning
Written by Mary Pope Osborn
Illustrated by Sal Murdocca
Reviewed by Callista G. (age 9)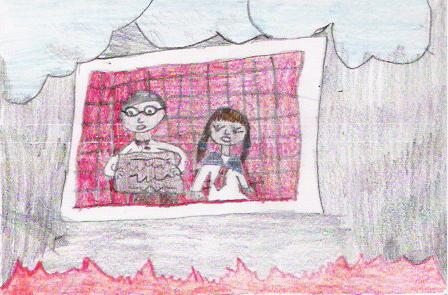 There was Jack who was eight years old and his sister named Annie who is seven years old. They found out the magic tree house was from Morgan le Fay. Morgan le Fay was from Camelot, the long ago kingdom of King Arthur. Morgan le Fay was a librarian of the books of magic tree house. Morgan wants Jack and Annie to find the last poem to save Camelot. They went to San Francisco, California, 1906 to find the poem. When they got there, there was an earthquake and fires everywhere. After that these two boys and their aunt gave a poem to Annie and Jack to give to King Arthur to save Camelot.
I like the book because Annie and Jack solve mysteries. My favorite part of the book was when an earthquake shook the ground and I would like to feel one. Annie is like my cousins Maya and Rudy. The book was special because Annie and Jack save Camelot.
I do not recommend this book because it was boring. Someone who likes safety might like this book. The book is interesting because Annie and Jack are solving a mystery.