The Boxcar Children-Snow Bound Mystery
Written by Gertrude Chandler Warner
Reviewed by Reid H. (age 9)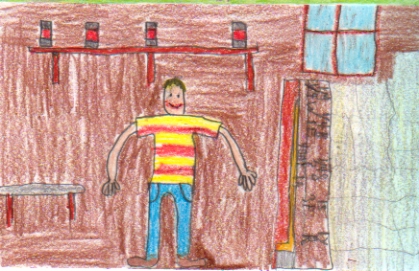 SnowBound Mystery is a book about four children that go to a cabin for a camping trip before school starts. The main characters are the Alden children: Benny, Violet, Jessie, and Henry. Tom, Barbara, and Puggsy Nelson own a store two and a half miles away. The Aldens walk to the store almost every day to see the Nelsons and to get supplies. The first time they went to the store everybody introduced themselves. They bought their supplies and left. The next day they were buying their things when Benny started talking to Puggsy. Then Puggsy said half of a sentence and Barbara stopped him from saying the rest of the sentence. After that day the Nelsons acted weird around them. When they got home Benny asked, "Why do you think she stopped him from saying the rest of that sentence." Everybody said, "I don't know" at once. Violet was looking for a broom. Benny kept on looking for it. When he was about to give up he leaned against the wall and heard it was hollow. He grabbed his knife and started prying a board off. Then he found strange markings on the wall. What do you think the markings are? Read the book to find out about the Snowbound Mystery.
I thought the book was interesting because I like adventures. I liked it when they were looking for a broom and they found strange markings on the wall. That was one of my favorite parts.
The unique thing about the story are the journeys. They have a lot of journeys. They see the deer walking on the trail. They have to walk home in a foot of snow. These are all journeys. Some happen to just the boys, some happen to just the girls, and some happen to all of them. This book is part of the Boxcar Children series. It's similar to the other Boxcar Children books because all of them are mysteries. All the stories take place somewhere different and there are always new characters.
I felt like I was actually with them the whole time. From the time they found the broom to every time they had walked to the store. It made me think about a couple of times when I went camping and I got caught in a storm. Benny interests me the most because he is always hungry and always curious and asks a lot of questions.
I do recommend this book because it is not a hard book to read and it is really interesting. People that like mystery and adventure books should read this book. I think the characters will interest readers the most because they are all really interesting.