Mr. Putter and Tabby Stir the Soup
Written by Cynthia Rylant
Illustrated by Arthur Howard
Reviewed by Talia C. (age 7)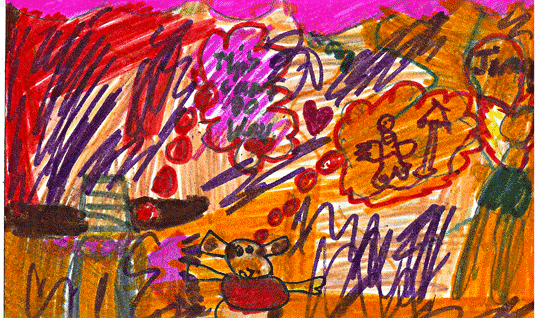 Have you ever read a book that's funny, silly, hilarious? Try the Mr. Putter and Tabby books. In Mr. Putter and Tabby Stir The Soup, Zeke is Mrs. Teaberry's dog. He is always up to trouble. If you want to find out more on Zeke and his adventures, read the book Mr. Putter and Tabby Stir The Soup.
The book is about Mr. Putter and Tabby wanting to make soup. His stove named Bessie was on the blink one day. He called Mrs. Teaberry to use her stove. She is Mr. Putter's neighbor and friend, and her dog Zeke is Tabby's neighbor and friend too. Whenever Mr. Putter says Zeke is not going to be a bother, Zeke is a really big bother! He will have a potted plant in his mouth and a radio in his mouth and a lamp in his mouth. Mr. Putter puts those objects in Mrs. Teaberry's bathtub so Zeke couldn't reach them. When Mrs. Teaberry got home, she finished Mr. Putter's soup, made some raisin bread, and made some chocolate fudge. Mr. Putter had the most wonderful meal and the best soup that Tabby and him had ever tasted. Mrs. Teaberry said that, she was sorry that Zeke was a bother. Mr. Putter said, "Zeke was not a bother."
In Mr. Putter and Tabby Stir The Soup, My favorite part was when Zeke came into the living room with the lamp in his mouth. And Mr. Putter said, "Jiminy!" in a very angry tone. I thought it was very funny. Just between you and me, Zeke ate the entire house, just like my puppy Lola! That is why... if one of your friends has a dog, and they are leaving the house, and they leave the dog in the house, don't ever trust that dog to be good! Because it will be big trouble. You will have to stop it from... jumping, peeing, running crazy, biting, and barking; all kinds of stuff that a dog can do. You will say...."Ah, this dog is more trouble then I thought!" That is why you should never ever, and I mean ever trust your dog!
I recommend this book for kids who like funny and silly dog books. Readers who like dogs should read this book because it has a funny dog named Zeke. This book is about soup, so kids who like soup will really like this book too. Don't try any of this stuff at home because it is dangerous. Ask your parents for permission to do these things.