Fox and His Friends
Written by Edward Marshall
Illustrated by James Marshall
Reviewed by Katie N. (age 7)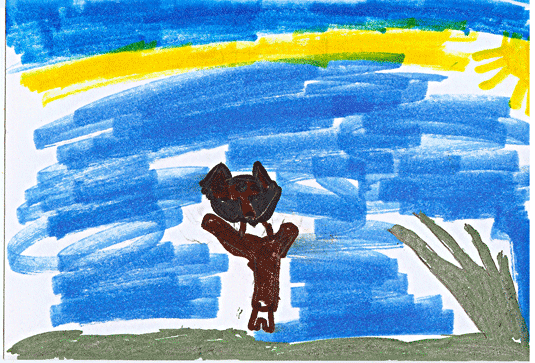 In Fox and His Friend, Fox is not a regular Fox. Do you know? Fox is weird. His mom always messes up the day. Fox always takes care of Louise. Fox treats his little sister badly, but I think Louise is a sneaky, really sneaky sister! Fox is not an ordinary person! At the park Fox and Louise were sitting on the bench and… She escaped. She ended up on the telephone pole. Fox got really mad because Louise always does sneaky stuff that makes Fox really mad. I like this book because it is really funny!
In Fox and His Friends, Fox is like my sister because Fox does not take care of Louise and my sister does not take care of me. It reminds me of when my sister did not take care of me once. It was only once, not like of lots of times. Louise is not careful with glass. She keeps breaking things. That was my favorite part in the story. I also like the part where Fox went to all of his friend's houses but they weren't available. One had to clean up all day and the other had the chicken pox! Fox always thinks that hanging out with his friends is much better than hanging out with his mom and sister, but I think hanging out with my sister and mom is better. I like the part where Fox has to take Louise to the park and Fox does not know that Louise is gone. And so Fox goes looking for Louise all over the park!
I recommend this book to kids who have an annoying sister that does weird stuff. Kids will be able to make connections if they have siblings. I like the book because it is funny, silly, weird, and cookoo. Fox is weird and I thought I really liked it! If you want to find out all about the crazy stuff that Fox does you will just have to read this book.