Mr. Putter and Tabby Pick the Pears
Written by Cynthia Rylant
Illustrated by Arthur Howard
Reviewed by Nina B. (age 7)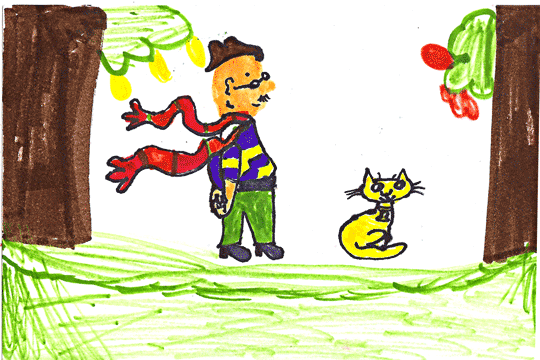 Mr. Putter and Tabby love pear jelly. Mr. Putter has a problem with his legs. He is old and made a sling shot out of underwear. Mr. Putter went back to the pear tree and he picked up an apple and it went zing-zing. Guess what happen next? Read the book….. I like this book because Mr. Putter has lots of ideas to fix make, and invent stuff. Mr. Putter is funny. Mr. Putter has many sides to his actions. Mr. Putter always has good ideas for something or someone.
My favorite part is when Mr. Putter found a pair of underwear and made a slingshot and the underwear was pink and has poodles on them. Mr. Putter has a brother and Mr. Putter brother is funny. He is like my sister, because she is funny too. In the Mr. Putter and Tabby series, the pictures always have a lot of detail to them. When Mr. Putter is feeling down, Tabby always has a funny way to express himself. And in Mr. Putter and Tabby books, make sure you look for the funny expressions on Tabby's face.
I recommend this book to people who like or love funny books. If you love Junie B. Jones you might love Mr. Putter and Tabby Pick the Pears.