Junie B. Jones has a Peep in her Pocket
Written by Barbara Park
Illustrated by Denise Brunks
Reviewed by Nicolette C. (age 7)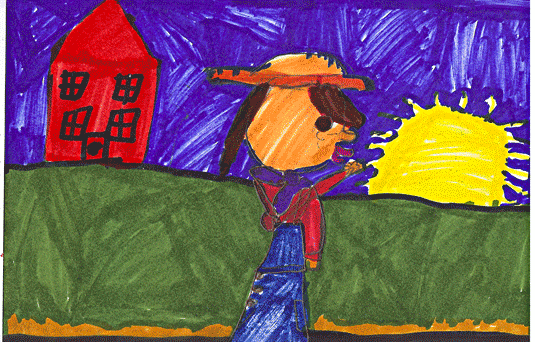 Have you ever thought you would hate a school field trip? Junie B. Jones did. Junie B. Jones is a crazy and fresh kindergartener (in some books she's a 1st grader). In Junie B. Jones Has A Peep In Her Pocket, Junie B.'s class is going on an end of the year trip and Junie B. isn't so fond of where they're going. Where are they going? You have to read the book to find out. The lesson is: If you try something you thought you wouldn't like, try it. You might like it.
My favorite part was when Junie B. and her mom went to buy clothes for her. I like that part because I thought Junie B. looked funny and cute in her little farmer outfit. Junie B. is a very interesting character because she's always screaming and jumping, playing, complaining, and more. This book is unique and special because this book is in black and white and Barbara Park makes Junie B. talk like a real kindergartener. For example, when Junie B. and her mom went shopping they bought a checkered shirt, overalls with big giant pockets, and a bandana. Junie B. didn't like the clothes at all but her mom bought them anyway. Junie B. said "Great, I look like a cornball." This part reminded me of when I go shopping; I sometimes see clothes that I don't want to have. But unlucky me, my mom sometimes doesn't know what she's doing, and blows off to dreamland and buys me the clothes anyway. Junie B. must be scared because she doesn't know what other people might say, and embarrassed because she said "I look like a cornball."
I think kids that like books that make you laugh all over will love this book. Junie B. Jones is soooo funny and crazy that whoever reads her books will laugh so much that you will think that your guts will fall out. This book will interest kids because Junie B. mixes up spelling. For example, in the book Junie B. And The Mushy Gushy Valentime, she says 'valentime' instead of 'valentine'. If you read Junie B. books, don't do ANY weird things Junie B. does or else you will get in lots of trouble.
* In some books she's a 1st grader.