Fluffy Goes Apple Picking
Written by Kate McMullan
Illustrated by Mavis Smith
Reviewed by Maryanne C. (age 7)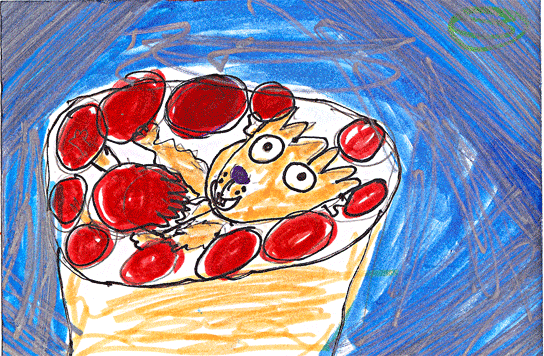 This book is about a guinea pig whose name is Fluffy. He L-O-V-E-S apples. He goes apple picking with Miss Day's class. Kiss, the mean guinea pig had a sleepover with Fluffy. Then Fluffy dreamt Kiss ate all the apples. When it was Fluffy's turn to pick the apple, he pulled the apple to hard and…AHHHHHHHH!!!!! Fluffy pulled the apple and flew through the air and landed in the apple basket. Do you want to know what happens next? Well, you have to read the book to find out.
If you have a guinea pig it shouldn't be like Fluffy, he's unusual. My Favorite part is when Fluffy pulled the apple to hard and flew through the air and landed in the apple basket. It reminded me of when I went apple picking with my mom. And she pulled the apple too hard and it landed on my head. Fluffy L-O-V-E-S apples and a big adventure awaits him. He's funny for the little kids and weird for the older kids. I think ages 4 to 10 will love him. He thinks he is tough but he's really a cute little guinea pig who has a big mind of his own. Fluffy is cute, funny and he thinks he's smart and tough. But all the kids think he's so cute and he doesn't agree with them. He has so many adventures and so many books to read.
I recommend this to kids that like books that have animals that think their little and cute. You should like the Fluffy series because he thinks silly thoughts. There are lots of Fluffy books to read but I think this one is the best. I just couldn't get my eyes out of the book. And I think you can't too.