Ricky Ricotta's Giant Robot vs. The Mutant Mosquitoes from Mercury
Written by Dave Pilkey
Illustrated by Martin Ontiveros
Reviewed by Jamie B. (age 7)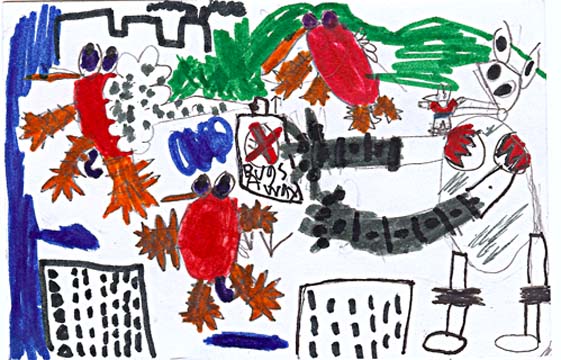 Do you want to read a series about a mouse and a mighty robot? Well then try Ricky Ricotta's Mighty Robot. Here you go, in Ricky Ricotta's Mighty Robot vs. the Mutant Mosquitoes from Mercury. The book is about two friends saving the day. Mr. Mosquito hates his planet Mercury because of the long, hot days, and the long cold nights. The temperature in the night dropped to over 300 degrees below zero! Mr. Mosquito decides to take over earth, so Ricky Ricotta and his mighty robot have to fight back! You'll find out who wins in the book I'm reviewing, only if you read it! Plus this book comes with Flip-O-Rammas. It has ten pages of the big battle in Flip-O-Ramma.
I think you should read Ricky Ricotta's Mighty Robot vs. The Mutant Mosquitoes From Mercury because it's very funny and amusing. I know every boy in the world would like to read it. It also comes with flip-o-rammas. A flip-o-ramma is something where you flip the pages and it looks like one character is moving. You can see Ricky's mighty robot kicking or punching the mutant mosquito. Every one who reads this book should do the flip-o-ramma thing!
My favorite part is when Ricky's mighty robot stretches his arm all the way to the Bugs Away bug spray factory, and grabs a giant can of Bugs Away bug spray. Then Ricky's mighty robot shook the can of bug spray and sprayed it at the Mutant Mosquitoes. The evil mosquitoes get blown away and hurt. Then the mutant mosquitoes give up and fly back to their planet. All except one: Mr. Mosquito. He uses his special secret weapon, but Ricky's mighty robot defeats his secret weapon! This book was super duper funny. I laughed a lot, and you might too!
I recommend this book to people who like super hero books and evil animals from space, trying to take over the world. I bet you fifty dollars, your favorite part is going to be the flip-o-rammas! I still recommend that families throughout the world, even in Asia, Africa, Europe and Russia, would like to read the book I'm reviewing!