Magic Tree House: Twister On Tuesday
Written by Mary Pope Osborne
Illustrated by Sal Murdocca
Reviewed by Jacob R. (age 7)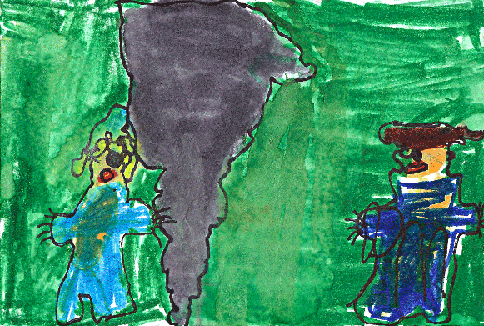 Have you ever thought about being on a prairie in a one-room schoolhouse with a storm cellar in the middle of a tornado? It ACTUALLY happened to Jack and Annie! Jack and Annie went on a adventure that almost blew them away! Morgan the MAGICAL LIBRARIAN OF CAMELOT sends Jack and Annie on LOTS OF MISSONS! In books 21-24 Jack and Annie have to find 4 special writings to help Morgan save Camelot.
The main idea of the book is to never give up hope and always make sure everyone has hope in them and they never lose it. So pretty much the main idea is to never give up hope. A poem from the book about hope: "'Tis a lesson you should need, Try, try again, If at first you don't succeed Try, try again."
I think that Magic Tree House #23 Twister On Tuesday, is a cool and magnificent book! My favorite part was when everybody (except Jack and Annie) was thinking about the last Grasshopper Attack, "They covered every inch of ground!" "and ate EVERYTHING!" I liked it because it was cool and funny and it wasn't really a Grasshopper Attack it was……… hail! (Haha!) That reminded me of once when I saw a fire engine I thought…………… FIRE! CALL 911! Wait 911 is already here! I think that they were both funny and they were both misunderstandings. My favorite character is Jack because he is always looking in books to study something! I like this book because it is really exciting and funny!
I recommend this book to kids who like magic and weather because this book is all about magic and weather! I think that one of the VERY Interesting parts Is when Jack and Annie were just about to go up the rope ladder to the Magic Tree House but then they saw the…….. TWISTER! I think that kids who like L.O.L. (L.O.L. stands for laugh out loud) funny will like this book! I think that you should read the WHOLE series! ALL -- the books are great!