Ricky Ricotta's Mighty Robot vs. The Stupid Stinkbugs From Saturn
Written by Dav Pilkey
Illustrated by Martin Ontiveros
Reviewed by Aidan T. (age 7)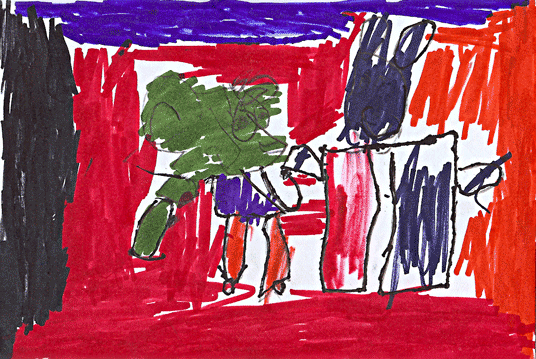 Ricky has to spend the whole day at his cousin Lucy's house. Lucy really gets on his nerves. That's not all that gets on his nerves; his uncle shakes his hand too hard, his aunt kisses him too much, and his cousin Lucy always wants to play princess. And when Ricky says no, she is just not O.K. with that. Then there is Sergeant Stink Bug, he wants to junk earth and put garbage everywhere. He thought that Lucy was the princess of earth and he was going to kidnap Lucy and take over earth.
My favorite part is when Ricky, his mighty robot and Lucy's Jack Rabbits were stuffing grilled cheese into their mouths. I like that part because it was hilarious. There is an illustration of them grabbing the sandwiches and stuffing them into their faces, it is really funny to look at. I think people who like funny books will really like this part. I like funny books so this is one I really liked. There are lots of other funny parts in this book and lots of action too. I also really like the Flip-O-Rama parts of the book. You put your left hand on one page and your right hand on the other and flip the pages fast. When you flip the pages like that, the characters look like they are moving. It is really fun to do and makes the book look cool.
I recommend this book to readers who like action and funny stories. Ricky and his Mighty Robot battle villains from others planets. The villains try to take over the earth but Ricky and his robot stop them and put them in jail. The robot has special arms that grow and he uses them to punch the stink bugs. Then Ricky eats a lot of gumballs and he becomes humungous and then he beats two stink bugs. The pictures are very funny too. I also like that in the Ricky Ricotta series, the author tells you about space. In every book the villains fail because they lose to Ricky and his Mighty Robot. I like to see the bad guys go to jail.