Dilly's Summer Camp Diary
Written by Cynthia Copeland Lewis
Illustrated by Cynthia Copeland Lewis
Reviewed by Zoe D. (age 8)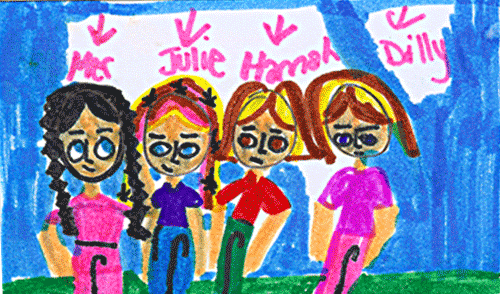 Hello, my name is Zoe, age 8. I go to school at Thurgood Marshall Academy Lower School. Dilly can't wait till she goes to Camp Dakota. Meredith can wait till the camp starts. When they get there, they see adults and kids. Does Dilly meet any friends? Does Meredith change her mind about what she thinks of Camp Dakota?
I feel that the writer has an interesting style. The writing style is interesting because it's like a diary. That's unique because the author described Camp Dakota like she was really there. My favorite part of the story is when Dilly starts to get everyone's attention with frogs. That's my favorite part because Dilly wasn't getting any attention. I couldn't wait for Dilly to get some attention even from the popular girls. I like the illustrations because they are very neat little pictures on the sides of the pages. This book reminds me of Amelia's notebook because Amelia's notebook is a diary too. I think girls ages 8-12 should read this book because it has action and drama. It makes you laugh and cry and it makes you not want to stop reading.
If you want to see this book, buy it or check your local library.