Dogzilla
Written by Dav Pilkey
Illustrated by (same)
Reviewed by Colton C. (age 9)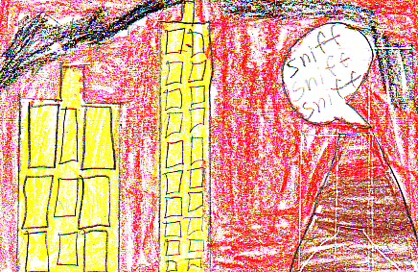 The mice of Mousopolis had their first annual barbecue cook-off. They didn?t expect Dogzilla. She ate everything in her path destroying the city. So, the big cheese and his soldiers gave Dogzilla a bubble bath. It got Dogzilla out of the city, and the mice of Mousopolis rebuilt the city. They never heard from Dogzilla again. However, they had no idea what would happen next.
I like this story because Dogzilla torchers the city. This story also reminded me of myself because I?m mean a lot. My favorite part was the end. This story will make you laugh a lot! I also like the story because it has animals in it.
I think people who like dogs should read this story. This book makes me happy because it?s real funny. It especially has a funny ending.