Dorrie and the Halloween Plot
Written by Patricia Coombs
Reviewed by Ashley B. (age 10)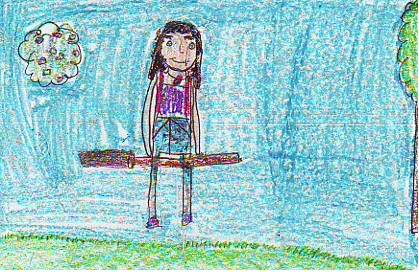 This story is about a girl named Dorrie who wants to fly on her broomstick, but her mom said, ?Next year because you?re too young.? All morning Big Witch, Cook, and Dorrie practiced curtsies for a Halloween pageant. The front door slammed and Big Witch rushed out. While she was out, Dorrie tried to fly on her own, but she landed in Black Pond. She climbed a tree. While she was up in the tree, she heard voices and thought some were coming. The voices grew louder. It was the Halloween Demons! Dorrie called, but they were too busy talking to hear her. The Halloween Demons took the book. Down to the balcony they swooped as Zed, one of the Halloween Demons, grabbed the great sorceress and lifted her up. Her first flight on a broomstick was full of adventure and Dorrie went to bed with the broomstick right beside her.
This book was a little bit of a crime show. It was funny because Dorrie fell in a pond. She was wearing a mask and a princess costume. The mask got wet and then shrunk on her face. That had to hurt! I?m glad I don?t have to do curtsies. I wish I could do magic. It looks like fun! Maybe I could make my brother do whatever I want him to. That would be so cool, but unfortunately, I don?t.
I recommend this to 4th and 5th graders because the character Dorrie is funny.