Leprechauns Don't Play Basketball
Written by Debbie and Marcia Thorton Jones Dadey
Illustrated by John Steven Gurney
Reviewed by Will W. (age 8)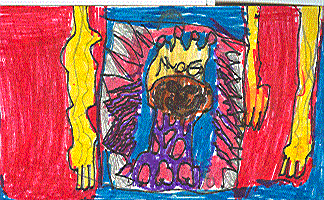 It was an ordinary day at Bailey School with Howie and Liza under the oak tree. When they got to the P.E., however, the day turned out to be not so ordinary, because a man named Mr. O'Grady was with Mr. Hands, their P.E. teacher. Weird things start to happen, like Mr. O'Grady got this stone out and rubbed it and the basketball flew at Eddie. Mr. O'Grady is from Ireland, and he taught the kids how to do the Irish Jig. Is it possible that Mr. O GRADY IS a REAL LEPRECHAUN? The kids think so.
I did not like this book because it was really long and it had bad illustrations. I had already read some of the Bailey School books, and I got tired of this one really quickly. The illustrations seemed like they were trying to be funny, but they weren't. They just seemed kind of weird, and some of them didn't match the story very well.
I will not recommend this book because it was too long and it had big words, and those things made it hard to understand. Maybe a third grader would like the book more than I did. I didn`t like the illustrations except one, but it was a funny one.