Felicity Saves the Day
Written by Valerie Tripp
Illustrated by Dan Andreasen
Reviewed by Mary Ranie M. (age 7)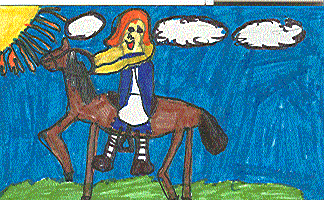 This book is about a young girl named Felicity who lives in Williamsburg. She visits her grandfather's plantation. Near her grandfathers plantation lives a horse named Penny. Penny 's owner is Mr. Nye, and he is cruel to Penny. Felicity wants to free Penny so she will be safe from Mr. Nye. Will her plan work out?
I did like this story because it was like an adventure and the characters were very interesting. The setting sounded like a beautiful place. I have a picture in my mind of exactly what it looks like. Another reason I liked this story is because Felicity is like my best friend. She likes to keep secrets, and I feel like I can trust her.
I think second graders would like this book because it's like an adventure. Girls would probably like this book better than boys because it tells a lot of girly things that they do. I think my friend Karlea would like to read this book because she likes adventure books. I think Karlea would like the part when Felicity and her horse got back together again.