Ghouls Don't Scoop Ice Cream
Written by Debbie and Marcia Thorton Jones Dadey
Illustrated by John Steven Gurney
Reviewed by Katie S. (age 7)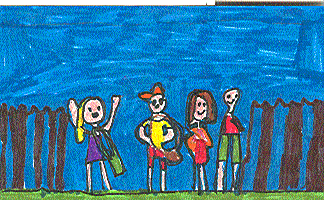 In this book Liza, Howie, Melody and Eddie try to find out if a new girl who works at the Burger Doodle is a ghoul. The girl is named Scout and she came to Bailey City to try to find a house for a family of vampires - or what Liza thinks is a family of vampires. The kids know that ghouls don't smile, so they want to make Scout smile to see for sure if she's a ghoul or not so they dress up as clowns and very funny people. Scout smiled, but she kept on wearing her ghoul clothes.
I love this book because Liza, Melody, Eddie, and Howie are trying to solve a mystery, and mysteries are really fun for me to read. I also like the book because of all the illustrations. I think the illustrator did a good job. He showed a lot of emotion in his pictures. I also like the book because it was exciting and happy.
I really do think second- through fourth-graders would like to read this book because the kids are able to solve the mystery in about one day. The story goes fast. I think my mom would like it because she loves mysteries. I think everyone would like the part when they found the answer and solve the mystery.