Cheetah Girls 2 The Junior Novel
Written by Alice Alfonsi
Reviewed by Jenna K. (age 9)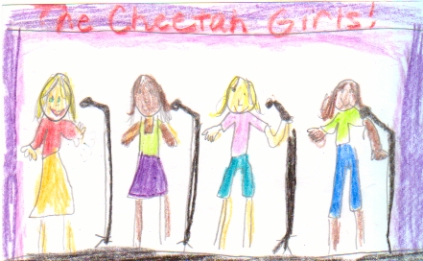 Galleria, Chanel, Aquanette,and Dorinda are four girls who live in New York City. Galleria lives with her Mom in New York City in an apartment. Her mom used to design clothes. Chanel lives with her Mom to in New York City in the same apartment. Aquanette lives in Texas and goes back and forth to New York. Dorinda was an orphan, she was adopted by Mr.and Mrs. Bosco. One night the girls were looking through a magazine and found an ad. It was about a singing competition at Barcelona, Spain. They try to bribe their moms to let them go. Read about their bribes, and find out if they are lucky enough to go to Barcelona, Spain.
My favorite part is when they entered the contest. They were so excited and wanted to win. I know how that feels because I entered an essay contest last year and I won. This movie made me want to read the story. I like this book because I felt as if I were in it. I love singing. I dream of going to far away places. I did this when I read this book. The book reminds me of things in my life because sometimes I feel like I will never go anywhere. I thought I'd wouldn't get to go to Kansas two years ago, but we actually got to go. I like this book's pictures because they have real pictures in the middle of the book so you know what the characters look like.
I recommend this book to you because it's about friends staying together, not excluding any of them. I would recommend it to any girls who like to be with their friends all the time.