Flicka - Untamed Spirit
Written by Judy Kalschke
Reviewed by Amber B. (age 9)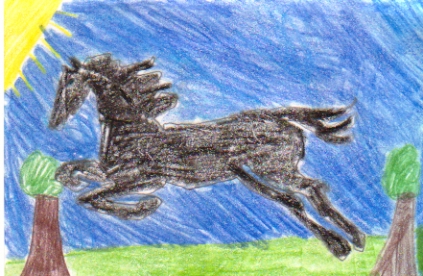 Kate is just home for summer vacation and doesn't want to tell her parents that she missed an assignment and will not pass her grade. She is more interested in ranching than she is in school work.
Kate takes a ride on a horse named Yankee into the mountain side. As she was riding the horse tossed Kate off because it got scared of a mountain lion. Kate started to run when she fell face first into a field of wild flowers. Right in front of her was a wild mustang. The mustang kicked up its heels and scared the mountain lion off. She told her dad about the mountain lion, but he was more interested in the letter he received from school. He told her to write the report for that class in order to pass.
Kate decided to get the mustang home by herself. She named the horse Flicka which means "pretty girl". At night she went out and trained Flicka. She was able to ride Flicka. Once when she was riding her, Flicka got spooked and bucked Kate off. Kate's dad decided to sell Flicka before she got hurt. Nobert Rye bought Flicka and entered her in a rodeo as one of the wild horses. When Kate heard that Flicka was going to be in the rodeo contest, she entered the rodeo. She knew she would be able to ride Flicks and win the contest and then be able to buy Flicka back again.
Read the book to find out if she wins the rodeo and what happens to Kate and Flicka after the rodeo.
My favorite part is when Kate finds a mustang on the mountainside.The mustang is wild and Kate really liked her. Kate is my favorite character because she reminds me of myself. She likes to work on the ranch and loves horses. I live on the farm and I like to help Dad outside, too.
When I read this book I felt happy because Kate always wanted a mustang and she found one. It made me wonder what would happen to Flicka if Kate had not found her. They were good friends. I think that Kate and Flicka are interesting characters because they helped each other to grow. Flicka grew to be a wonderful horse and Kate grew to be a more responsible person.
I recommend this book to 3rd and 4th graders because I think that they'll understand the book very well. It is an easy book to read.