Mrs. Brown Went to Town
Written by Wong Yee
Illustrated by Wong Yee
Reviewed by Gabriel V. (age 8) & Olivia G. (age 7)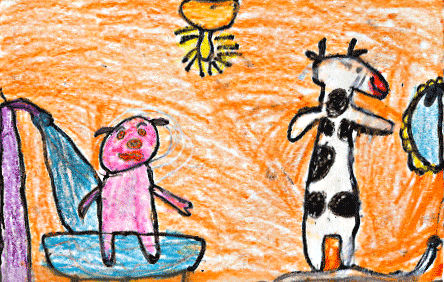 This book was about Mrs. Brown. She went to town and was bitten by a big dog. She had to go to the hospital. She sent a note to her animals from the hospital. She wrote that she would be home soon and that she wanted them to behave. The animals didn't listen. They painted her house red. The animals made a big mess. At night the animals fell asleep on Mrs. Brown's bed. Then a taxi suddenly dropped Mrs. Brown off at her house. Mrs. Brown went to lay down on her bed. The bed was too heavy and crashed through the floor. Fire trucks, the police, and an ambulance came to the house. Mrs. Brown and the animals all were taken to the hospital. Mrs. Brown now sleeps in the barn.
What we liked about the book was when the animals and Mrs. Brown fell off the bed. Mrs. Brown and the animals had to go to the hospital. Can you imagine how funny it would be to see farm animals in a human hospital? Our favorite character was the cow. We liked him because he did the funniest things like put on make up. The story reminds us of Olivia's cow that she has at her uncle's house.
We would recommend this book to other students because we think that kids would like to read stories that have animals in them. This book is full of farm animals and funny parts.