Marsha Makes Me Sick
Written by Barbara Bottner
Illustrated by Denise Brunkus
Reviewed by Paola A. (age 8)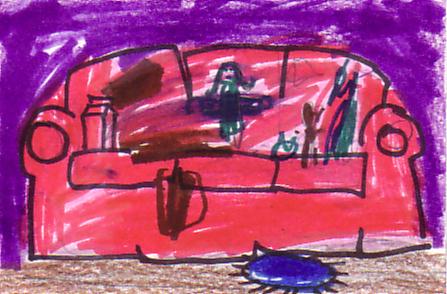 Lulu is a big sister. Her baby sister's name is Marsha. Marsha can't do anything. Lulu could do lots of things, like sing, dance and write in cursive. Marsha couldn't even say her name. But that didn't matter, because everybody liked her and spent more time with her than with Lulu. That made Lulu be mean to her little sister. Next, Marsha got the chicken pox and then her mom spent even more time with her. Lulu was annoyed. Every time Lulu tried to get her mother's attention, her mom told her to be a big girl and do things for herself. Lulu made herself something to eat and made a big mess on the couch. Her mom was very mad at her. Then Lulu tries to be nice to her sister. Finally Lulu gets her mother's attention because she got the chicken pox too.
I liked the book because Lulu could do many things, like write in cursive, dance, sing, and tell jokes. She was a big sister just like me. I know what it is like to have little sister that everybody likes to play with and they don't even know I'm around. I know just how Lulu felt when her mother kept telling her she was too busy to be with her. Sometimes I feel just like Lulu.
I think kids who have little brothers and sisters will like to read this to them. Maybe they will be nice and not mean anymore like my sister.