Katie Kazoo Switcheroo The Santa Switch
Written by Nancy Krulik
Illustrated by John and Wendy
Reviewed by Danielle S (age 10)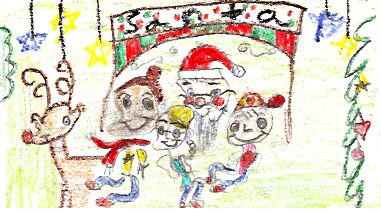 Katie's class does a Secret Santa class gift exchange and they have to draw names. They had to buy 3 gifts. Katie picked Kadeem's name, a boy she hardly knew. To make things worse, the gifts Katie was receiving had to been from someone who hardly knew her. First she got a whoppee cushion, then fake throw up. She assumed it had to be a boy, one that hardly knew her. But she gets the biggest surprise when her last gift comes from her Secret Santa, someone she least expects.
I really liked this book. Katie is my favorite character in the book. She makes me laugh. I especially liked it when Katie gets to be Santa's helper at the store. One of the parents hands Katie a stinky baby, and the baby is so stinky even Santa doesn't want to take the baby in his lap. I have read several of the Katie books and laughed reading all of them.
I recommend this book to anybody who likes to read books that make them laugh, especially kids who like make believe stories.