Dragons Don't Cook Pizza
Written by Debbie Dadey
Reviewed by Andrew H. (age 8)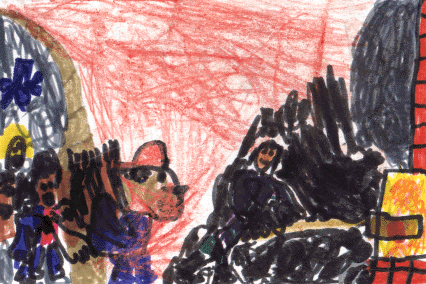 I chose this book because I thought the title was very funny.
The story is about a place called Jewel's Pizza Castle. The kids from Billy's school went to this new pizza place. Four of the kids that are best friends thought there was a dragon that blows fire to cook the pizza. George is the owner of Jewel's Pizza Castle. The 4 kids went to the pizza castle to see if there is a real dragon. The kids wanted to see what was in the dungeon so instead of entering from the front, they entered from the back. When the kids got in the dungeon, George got in front of the door and wore a suit of armor and had a sword with a fancy handle and a shield. In the end the castle was closed for a week but it opened again. At the back there was a fence with signs that said Danger! Keep Out.
I would recommend this book to second graders and up because to me it would be easy for them. I think this book was a little hard for me because I take a couple of days to finish chapter books. To me the thing I like about the book is that the 4 kids think there is a dragon in the pizza place. Adventure books are very cool to me.