Goblins Don't Play Video Games
Written by Debbie and Marcia Thorton Jones Dadey
Illustrated by John Steven Gurney
Reviewed by MikeV (age 10)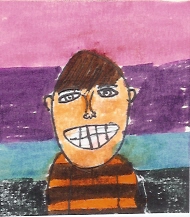 Goblins Don?t Play Video Games, by Debby Dadey and Marcia Thornton Jones, is very interesting because it is an unpredictable book and very different. It makes you wonder if this could really happen.
This book is about a girl who bought a video game. The house in the video game looked exactly like the one in her town. She thought it was haunted. They also had a new computer teacher named Mr. Goble, and the school had new computers. The kids thought Mr. Goble was a goblin. The kids made messes in his classroom, and then Mr. Goble set Eddie, one of the students, up to get in trouble. Do goblins really play video games?
My opinion is that it is a funny, unpredictable, scary book. It is funny because the kids throw food all over Mr. Goble?s classroom. It is scary because there are goblins in the story. It is unpredictable because Mr. Goble moved into a haunted mansion that looked like the one in the video game. The name "Mr. Goble" was spelled almost like goblin which was also funny.
I recommend this book to people who like an unpredictable scary story. If you are between the ages of 9 and 12 this would be a good book for you.