Magyk
Written by Angi Sage
Reviewed by Amanda L. (age 11)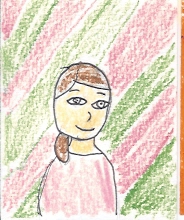 The book Magyk by Angi Sage is about the adventures of a girl and her family as they try to escape the Dark Magyk. One day Septimus Heap finds an abandoned baby girl in the woods. When he takes her back to his apartment, his wife, Sarah, calls her Jenna. Sarah tells Septimus that the Queen has been shot and her daughter has been hidden somewhere. On Jenna?s tenth birthday, she and her family run everywhere to escape from the Dark Magyk that tries to kill her. Will she be killed? Is she the princess? These are the questions I asked myself as I read the story. I know the answers now and you can, too, if you read this book!
I think the story is interesting and full of ? Magyk?! It is also fun to read and always keeps you wondering what will happen next The characters are funny, and I love the adventure.Jenna is a funny character because she always tells jokes. At the beginning of each chapter there are interesting pictures of dragons and creatures that are in the story.
I would recommend this book to students who are a little older because it has so many details. It is an exciting, ?magical? book!