Tiger's Eye
Written by Gertrude Chandler Warner
Illustrated by Hodges Soileau
Reviewed by Arielle N. (age 9)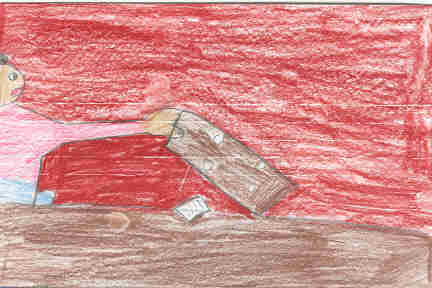 This funny mystery is about the Boxcar Children detectives: Henry, Jessie, Violet, and Benny. Their grandfather's friend, Edward, lives in a very magical house. Strange things are happening there: playing cards fly, salt shakers move across the tables, and clocks get reset! Very confused, Edward calls up the Aldens so that this mystery can be solved. Once in Edward's mansion, the Aldens find out that a famous magician named Harry Houdini once performed in the house. While solving the mystery,the Aldens find some other suspects named Melanie, Dorsey, and Iona. Any one of those people or Houdini could have rigged this house. Read to find out who.
My favorite part of this whole story is the solution. I like it because NOBODY could guess who did it. I couldn't believe what I was reading when one of the Alden children solved the mystery. I like Melanie because she is honest and I think she is a good friend. An example of this is when she told the Aldens part of the solution that she knew. Tiger's eye reminds me of the other Boxcar Children books because Bennie has the same personality which is funny and always hungry. I like the Boxcar Children series because the author puts in red herrings, clues, and suspense in all the books. Also, Henry is always the wisest, Violet only does what she is told, and Jessie is like Violet but she also helps with Benny, the youngest. These character traits occur through all the books.
I would recommend this book to children who like both magic and mysteries. If you liked some of the other books in this series, then read this one because it is one of the best. Gertrude Chandler Warner uses great descriptions and builds a great plot so ....ENJOY!