The Yellow House Mystery
Written by Gertrude Chandler Warner
Illustrated by Mary Gern
Reviewed by Sarah M. (age 9)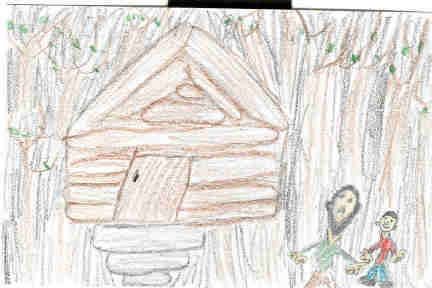 Henry, Jessie, Violet and Benny live with their grandfather in a big house. The children's parents died years before. There was also a man named Bill McGregor who was the housekeeper's husband. One day, Benny found a note and he knew that Bill had disappeared. What happened to Bill? Will they find him? The only way to find out is to read it.
Benny is a lot like me because I like to do things by myself. Benny likes to do things alone too. When the kids went to Rita, the Indian girl, to watch her make a basket, Benny ran off into the woods on his own. Benny is also like me because he likes to surprise people and get done first. He wanted to surprise the other kids when he found the hermit first. I like the way Gertrude Chandler Warner makes the characters realistic and makes the readers feel what the characters feel. An example of this is when Benny went off to find the hermit and the others did not know where he was. Violet started to cry which showed me that she really cares about Benny. This makes me care too.
I recommend this book to people who like the Boxcar Children series. This book has a lot of suspense and adventure. Boys and girls ages 9-12 would like it because it is not overly challenging but it is not too easy either.