The Yellow House Mystery
Written by Gertrude Chandler Warner
Illustrated by Mary Gern
Reviewed by Meaghan B. (age 10)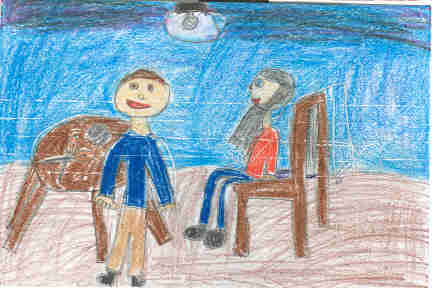 This story is about four children named Henry, Jessie, Violet and Benny. They all live with their grandfather, Mr. Alden, because their parents died years ago. Mr.Alden told them a mystery about a man named Bill who is missing. The four children set off to find Bill. Will they find him? Will there be a happy ending? Read the book to find out.
I think that Benny is the most important character because he found most of the clues and without him they would have starved. They found a note in the chimney that said something about a bear trail and they wouldn't have found it without Benny. My favorite part was when they were in the little yellow house looking for Bill and they found a letter. They were looking everywhere and it was so interesting how they found it. Benny is also very self-sufficient. He likes to do things for himself. I felt bad for the children when they lost their food; if I lost my food I wouldn't be happy at all.
I recommend this book to kids who are ages 8-12 or kids who like the Boxcar Children mysteries. This particular one is thicker than the other ones and more of a challenge. You will not want to put it down. Trust me!