Bone, The Great Cow Race
Written by Jeff Smith
Reviewed by Tommy N. (age 11)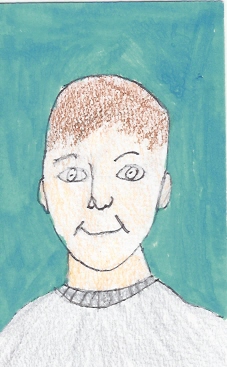 I read Bone the Great Cow Race written by Jeff Smith. The book is good for people who have read the first book Bone Out Of Boneville and kids who like comic strips. I liked this book because it is excitng and funny.
The story begins with Thorn and Fone Bone going to Spring Fair looking for honey. When they find a honey stand, the salesman makes fun of Thorn. This was funny because he was making fun of her nose. Then, Fone Bone wanders into the woods looking for honey. When Fone comes back he sees Thorn with the salesman. Phoney and Smiley are telling everyone to bet on the mystery cow. So, everyone bets on it. Phoney and Smiley know that when Gran?ma Ben wins they get everything. When this is happening, I felt like cheering for them. Next is the cow race, but everybody wants to see the mystery cow. Finally, the race begins on a cliff. The mystery cow falls on a patrol of rat creatures and is chased down the valley. This was hysterical! Read on to find out if they if they live or die.
I think this book is a good book. I liked this book because all of the adventures were funny and exciting.
I recommend this book to any one that likes comic strips. One word of advice, read the first book.