The Bald Bandit
Written by Ron Roy
Reviewed by Michael R. (age 10)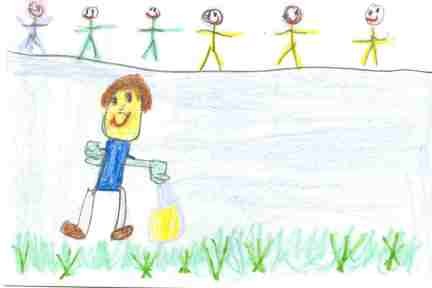 Dink, Josh and Ruth Rose love to solve mysteries. Dink is very curious and smart. Josh is a very calm person. Ruth Rose has curly hair. Somebody robbed the bank. Josh, Dink and Ruth Rose look for clues to solve the mystery.
I think the book The Bald Bandit is very suspenseful. My favorite part was when they found the bank robber. I couldn't stop turning the pages when I got a clue that one of the main characters was lying about the case. I thought Dink was interesting because he was a very smart character in this book. He was able to take all of Detective Reddy's clues and help solve the mystery. The Bald Bandit is part of the A to Z mysteries series. The main characters always stay the same, but the mystery changes each time.
I recommend this book to boys and girls who are 7-10 years old. Whoever likes the A to Z mysteries should read this book. If you like people getting tricked because of the way the characters talk to each other, then you'll love this book!