Brodeur Beyond the Crease
Written by David Cox
Reviewed by Thomas C. (age 11)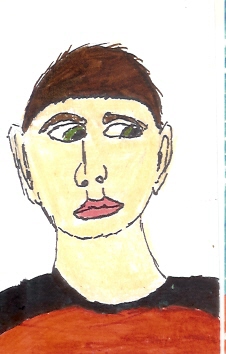 Brodeur Beyond the Crease was written by David Cox. This is the life story of a soon to be NHL Hall of Famer, Martin Brodeur. I believe this book is very interesting and hockey fans will love it as much as I did.
This is the story of Martin Brodeur?s career. This story is told by Marty Brodeur and David Cox. It tells the tales from between the pipes. Marty will tell you about his friendship with Lou Lamarello, draft picks, salary caps, and how to get started in hockey on the right foot. I really liked this part because I want to be a hockey player and I thought this information was really fascinating.
A good example is when the the 2004-2005 NHL lockdown happened. This was when all of the players refused to play because of the salary cap. The book gave an explanation of how unfair the players thought this was and how the issue was finally resolved. You'll have to read to find out the details.
What I liked about this book was that he tells you about himself and other players from the league. These players are very skilled and gifted. For instance, Wayne Gretzky, Mario Lemuiex, Jerome Ingla, and Joe Sakic are all mentioned in this story. The book provides detailed inforamtion about highlights from specific games. There are captions about their games, goals, and achievements.
I recommend this book to ages 11 and up. It?s also a great story for people who love hockey.