Anastasia the Last Grand Duchess
Written by Carolyn Meyer
Reviewed by Chimen K. (age 11)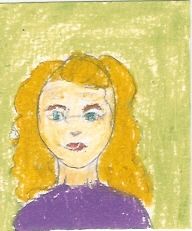 Anastasia Romanov was about a beautiful grand duchess of Russia who was growing up during WWI. Anastasia has a diary and in it she writes every day. To tell you about her life. I really liked the book because I always wanted to learn about her life because it is a mystery.
In the book, I read what Anastasia did over the summer, what she learned, who her parents were, and what their names were, who her siblings were, and their names. It was very exciting to read, I wanted to read it over and over again. This was different than any other book I have ever read.
In the book Anastasia is the youngest daughter of Czar Nicholas and she goes through WWI and she is very scared because she thinks she is going to die. I was scared and anxious while reading this because I didn't know what would happen next. I really liked reading about that part in the story.
I read this book because I really liked the story about Anastasia and her family. I would recommend it to someone who would like to read about Anastasia Romanov and people that enjoy non-fiction. People would love to read this book because Anastasia had a short, interesting life. If you read the book you will be taken back to the time of WWI. It's a great experience.`