Insect Invaders
Written by Anne Capeci
Illustrated by John Spiers
Reviewed by Albert K. (age 8)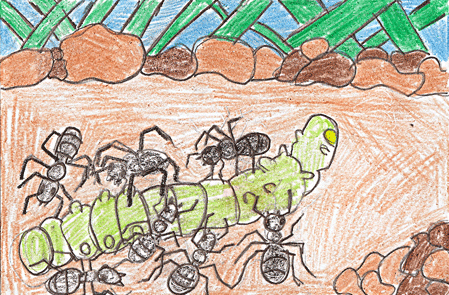 Read Insect Invaders by Anne Capeci! You should read Insect Invaders because it gives many interesting facts about insects. In the beginning, Ms. Frizzle's class learns about bugs. Wanda and Ralphie brought in their pet bugs. Next, Ms. Frizzle and her class went on a field trip to the park. When Wanda and Ralphie got off the bus they bumped into each other. Then their bugs get lost in the park. So everyone gets in the Magic School Bus to search for them. The bus turns into a beetle. As they search for the bugs they run into some real scary ones. Will they ever find Wanda and Ralphie's bugs? Read Insect Invaders to find out!
If you like to read about insects read Insect Invaders.You should read this book because it will hold you in suspense. This book will hold you in suspense because you will wonder if Wanda and Ralphie's bugs will survive in the wild. Also, the Magic School Bus runs into scary bugs, you might think they will get eaten. Another reason why you should read Insect Invaders is because it has awesome pictures. For example, it looks like the pictures are moving. One picture that looks like it's a moving is a picture of a Praying Mantis on page fifty eight. Also, Insect Invaders has interesting facts. On one page there's a fact that says ladybugs eat about five thousand insects in a lifetime. Another fact is that ants can lift twenty times their own weight. As you can see, Insect Invaders is an astonishing book because it has fantastic pictures, interesting facts, and it will hold you in suspenese!
I recommend this book to people who enjoy reading about insects. You can learn what insects eat, like plants or other insect. Also, you learn where insects live. Last, you can learn how insects are different from arachnids. So if you want to study more about insects get up and read Insect Invaders!