Click, Clack, Moo Cows that Type
Written by Doreen Cronin
Illustrated by Betsy Lewin
Reviewed by Justin A. (age 7), David L. (age 7) & Kevin F. (age 6)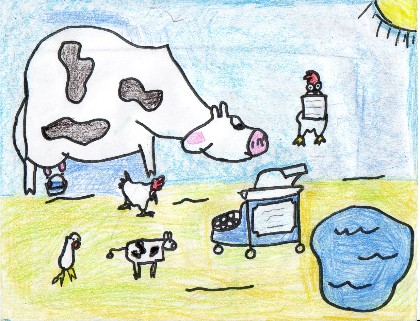 We picked this book because the picture on the cover was really funny and nice.
The story is about cows that type. This was a problem for the farmer because it was his typewriter. The animals kept writing notes to ask for things. The whole farm went a little crazy because the cows can type now. The animals did not give up and they kept writing notes to the farmer. Want to know what happens? Read the story!
We liked this book because it was so funny. It was funny because the animals were so weird. Our favorite characters were the cows and ducks because they type a lot and that looks really funny. We knew ducks and cows can't type in real life. The book teaches a lesson. Do not let cows or ducks type because they might type something wrong.
We recommend this book to big kids because it has hard words to read. It also has big kid jokes so it is good for big kids.