Little Bear
Written by Else Holmelund Minarik
Illustrated by Maurice Sendak
Reviewed by Evan L. (age 6) & Jarrod M. (age 7)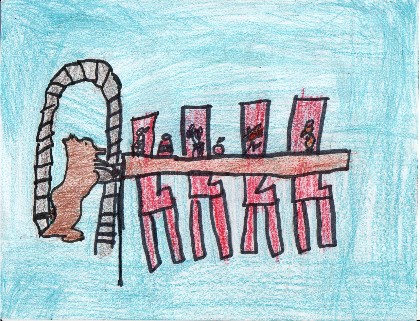 We picked this book because it was funny and we liked the cover. We read the story called Birthday Soup.
Little Bear is having a birthday but he is sad because Mother Bear is not there. So, he invited his friends to his house. He made a big pot of birthday soup. Chicken comes and gives him money. Other friends come and give him more presents. You should read the book to learn the happy ending.
The story was really fun. The most fun part was when Little Bear gives his friends soup because Little Bear was nice at the party. But our favorite part was when the cat came and gave the bear an apple. The apple was a good gift. Our favorite character is the duck because of the time when he stuck his head in the pot. That part was so funny. That soup looked yummy.
We recommend this book to little kids. This book has very easy words. We also think this book is very nice and fun for little kids.