Mouse Tales
Written by Arnold Lobel
Illustrated by Arnold Lobel
Reviewed by Alexis N. (age 7) & April C. (age 6)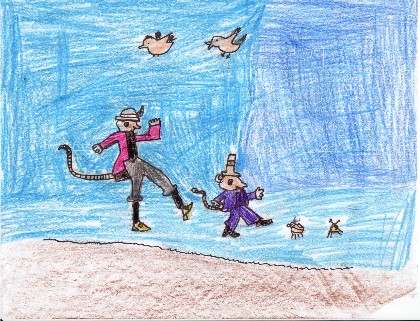 We picked this book because we liked the pictures on the cover. We read the story The Very Tall Mouse and the Very Short Mouse.
The story is about best friends. They are a very tall mouse and a very short mouse. They take walks together. When they take a walk, the short mouse says hello to everything that is short and low down, like bugs. The tall mouse says hello to everything that is up high, like birds. They have a nice walk.
We liked the book because it was a great story about friendship. Our favorite character is the tall mouse. The tall mouse was a great friend. He was really nice. The book also teaches a lesson. It teaches us about being friends. We also liked that it was funny. The tall mouse talked to tall things and the small mouse talked to low things. That was a really funny part.
We think that kids in second grade would really like this book because it is a long book. It has some hard words.