The Happy Hippopotami
Written by Bill Martin, Jr.
Illustrated by Betsy Everitt
Reviewed by Ani Y. (age 6) & Becky C. (age 6)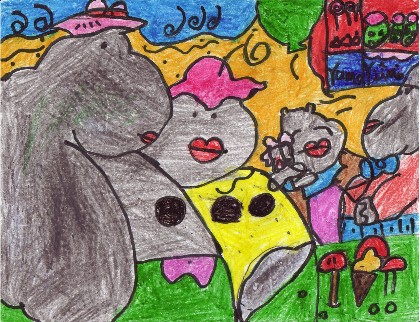 We picked this book because it is funny and it is make-believe. We like make-believe books.
The story is about the Happy Hippopotami. The hippopotami drove to the ocean. They had fun there. They had a party. They lined up at the water fountain and drank water. Read the book to find out more about what they did.
We liked the book because it is funny. The hippopotami were very funny and good. They were funny for us because they were pretending to be bears in the story. We liked the illustrations because we like drawing. We like the character hippo. The fat hippo is cute. We really liked the candy and ice cream he eats because we like ice cream.
We recommend this book to big kids because this book is maybe hard to read for First Graders.