The Very Hungry Caterpillar
Written by Eric Carle
Illustrated by Eric Carle
Reviewed by Pablo D. (age 6) & Kevin L. (age 7)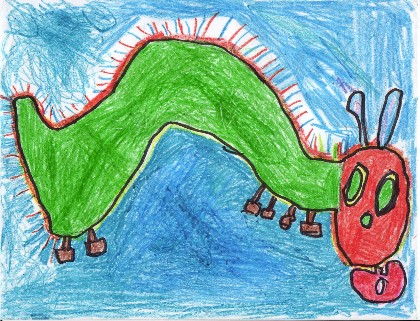 We picked this book because we really like Eric Carle.
Our book is about a very hungry caterpillar. It eats a lot of food. He got very fat. He made a cocoon. Then he turns into something beautiful. Read to find out what he turns into.
The book was so, so great. We like the book because the caterpillar got fat. It was so funny. The book had the funniest pictures. The book makes us feel like eating five oranges. It makes us feel like eating a lot of plums. And it makes us feel like eating lots of apples. The illustrations were so cool, too. The book is so great and beautiful.
We recommend this book to kids who like funny books because it is funny. Kids who like art will like this book too.