Tyrone the Double Dirty Rotten Cheater
Written by Hans Willhelm
Illustrated by Hans Wilhelm
Reviewed by Tatsuya A. (age 7) & Kiano Z. (age 6)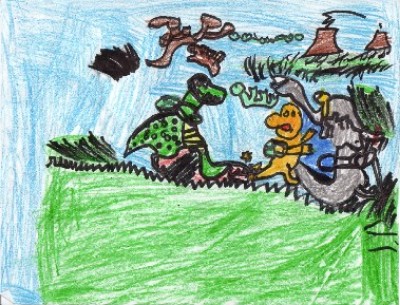 We picked this book because it looked funny on the cover.
The story is about Tyrone. Tyrone is a bully. Boland is a little dinosaur. He had a problem. Tyrone is cheating in every game. Tyrone is not a friend because he tricks Boland. Boland has a plan. It was a good plan. He showed Tyrone a trick map. When Boland was asleep, Tyrone stole the map. It took him to a beehive. Read the book to find out what happens at the beehive!
We liked the book. It was a really cool book and the characters were cool. We liked Boland most because he is nice and cute. Boland is an orange little dinosaur. Boland has orange and red spots. Our favorite part is when Tyrone got stung from all the bees. That part was really funny because Tyrone was jumping around so much.
We recommend this book for big and little kids. This book has a lot of problems. It teaches a lesson. Tyrone is always so mean to Boland. We learn that we should not be mean.