The Witch of Blackbird Pond
Written by Elizabeth Speare
Reviewed by Abigail G. (age 12)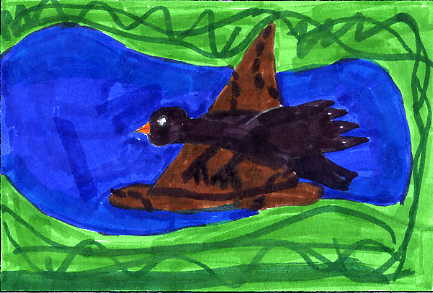 The Witch of Blackbird Pond is set many years ago, in the time of the pilgrims. When Kit, a newly orphaned teen girl, travels to New England from the Caribbean, she feels like she'll never fit in. In her previous life, she lived with her grandfather and was treated like royalty. But now, all of this has changed. The hard work style of her aunt and uncle's house does not bode well with pampered Kit. But one day, when Kit's world is falling apart at the seams, she happens along the Meadows. There she meets old Widow Tupper who changes her life forever.
Elizabeth Speare can vividly portray Kit's point of view without overdoing it. I think this book is fast-paced and exciting. I felt the characters in this book all had big, easy-to-remember personalities. My favorite character was Mercy, who, though quiet, is quite determined, despite her handicap. This book was not illustrated, but I like it better that way. I enjoy making up in my mind the appearance of all the characters, as opposed to having it been done already for me. Kit reminds me of myself sometimes, when I turn into an extreme sissy. This is a book like no other. The time period is popular in books, but the subject matter is very UNIQUE! In modern times, you are not often accused of being a witch, but, like with the townspeople and Widow Tupper, people still tend to judge a book by its cover. This book teaches people that this is wrong!
I think that others should read this book because it is full of suspense, excitement, and even a little romance! I believe that fourth through eighth grade girls will enjoy The Witch of Blackbird Pond!