Dear Dumb Diary, Let's Pretend this Never Happened
Written by Jim Benton
Reviewed by Kassidee K. (age 12)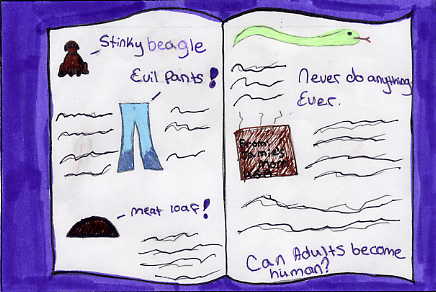 Middle School, stinky beagles, crushes, cafeteria monitors, school secretaries, and a lot more, all crammed into Jamie Kelly's dumb diary. This hilarious series of adventures, by Jim Benton, is sure to make you laugh. To sum up what you would learn in Dear Dumb Diary, let's just say, things aren't what they seem.
Why should you read this book? Why should you care? Jim Benton's writing is funny but he doesn't spend forever on a subject. The story doesn't take too long to read, and the writing isn't too small either. The characters are: Jamie, Isabella, Mom, Dad, Angeleen, Hudson, Mrs. Brundford, Mrs. Anderson, teachers, secretaries, principle, her dog, and a lot of other people. The writer's style is in the form of a girl's diary. He tried to make the story really funny, and he did a good job with it. Also, the illustrations, which look like a girl's doodles, put an extra special touch to the book, bringing it to life.
This book is mostly special to me because the girl in the book is so much like me. We both have brown hair, blue eyes, go to middle school, have a crush, own a dog, and have a best friend! Because of that fact, I think that preteen/ teen girls in middle school would get the most out of the book, but other kids can read it too! This book is like no other. Filled with surprise endings, weird ideas, and laugh out loud pictures, you won't be able to put this book down. But don't let me hold you back. Go to a local library and ask for this book! HAVE FUN!