Froggy's Halloween
Written by Jonathan London
Illustrated by Frank Remkiewicz
Reviewed by Enoch S. (age 8), Matthew S. (age 8) & Elizabeth S. (age 7)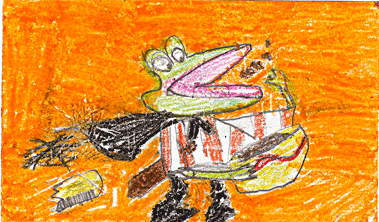 Froggy was excited for Halloween, but he spent alot of time trying to figure out what to be. He finally decided on a Frog Prince. Frogilina thought it was cute so she chased him for a kiss Halloween night. He was fightened and ran all the way home with a hole in his candy bag. Froggy had no candy when he got home, but his mom had a bowl full of chocolate flies just for him.
Our favorite part of the story is when Froggy's mother gives him chocolate covered flies for a Halloween treat because that made us laugh so hard. Our favorite character is the mom because she is nice to give Froggy his favorite treat, chocolate flies. This story relates to our lives because we celebrate Halloween and wear a costume, too. The pictures in the story show all the things that Froggy is thinking and help to tell what happens.
We think others should read this story because the characters are funny and they make you laugh.