Franklin has a Sleepover
Written by Paulette Bourgeois
Illustrated by Brenda Clark
Reviewed by Darren L. (age 7) & Sean B. (age 8)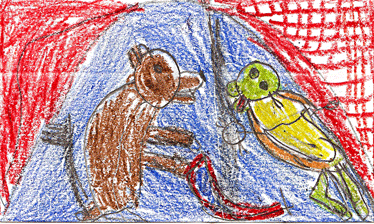 Franklin wanted to have a sleepover, so he asked his parents and they said, "Yes!" Bear was so excited to go that he did a happy dance. Franklin sat by the window and waited for Bear to come, and then they had a fun campout. Bear got sad because he missed his house, so Franklin made things cozy for them in his room. Next time, Franklin gets to have a sleepover at Bear's house. Now Franklin did a happy dance because he was excited.
Our favorite part of the story is when Franklin and Bear do the funky dance because they got excited for a sleepover. Our favorite characters are Bear and Franklin because they are smart to build their own tent. The story relates to us because we have had lots of sleepovers. There are pictures in the story that show the fun things that Franklin and Bear are doing.
We think people should read this story because the characters are funny and make you laugh.