Franklin's Secret Club
Written by Paulette Bourgeois
Illustrated by Brenda Clark
Reviewed by Jasmine M. (age 8) & Jasmine G. (age 7)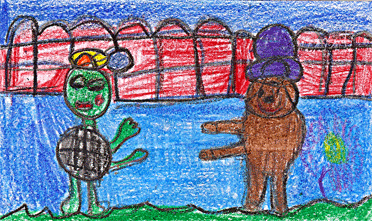 Franklin wanted to make up his own Secret Club so he invited Bear, Rabbit, and Snail to join at the hideaway by his house. Then at school his friend, Beaver, wanted to join too, but Franklin said no because there wasn't enough room. Beaver got angry and made up his own Adventure Club, but he didn't invite Franklin. Franklin really wanted to be in Beaver's club, so Franklin decided to go to Beaver's club and say, "Sorry!" They all decided to make up a club for everyone in the end.
Our favorite part of the story is when Franklin made up his own club because it's fun to do that with your friends. Franklin is our favorite character because he ends up being nice to others. This story relates to our lives because we made up our own club behind the backstop at school. There are pictures in the story that help you see what is going to happen to the characters next.
Others should read this story because it is about friends and learning how to share with each other.