Goody New Shoes
Written by Harriet Ziefert
Illustrated by Laura Rader
Reviewed by MichelleB (age 6)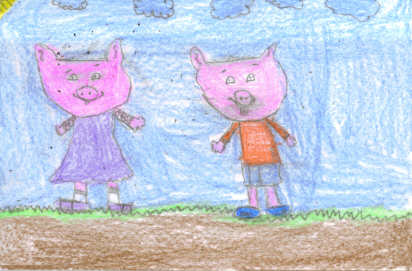 PJ and Penny need new shoes. Dad said, ?Get in the car,? so Penny and PJ get in the car. Dad, Penny, and PJ went to the barber?s for a haircut. PJ and Penny needed haircuts. They went to the shoe store. PJ tried new shoes. He tried dark blue and bought them! Penny tried light green shoes but she didn?t like light green shoes. But Penny liked purple shoes. Then they went to a bookstore. Penny picked a book. She picked ?Follow Me,? and PJ picked ?Harry Goes to Day Camp.?
My favorite part was when PJ and Penny window shopped because PJ likes toys and Penny likes the Ooey Gooey Bakery. I like Penny because Penny wore the light green shoes and tried the purple shoes. I like the illustrations because even animals are wearing clothes and shoes!
I recommend this book to my mom, dad, and sister because ?Goody New Shoes? is about people in a family.