Ribbon Rescue
Written by Robert Munsch
Illustrated by Eugine Fernandes
Reviewed by Shania A. (age 12)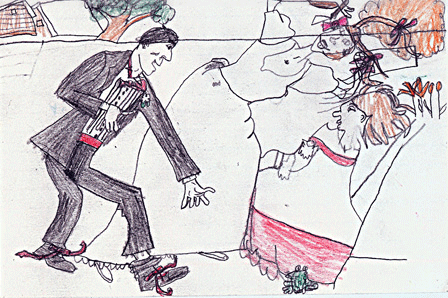 This book is about a girl who helped two people get married and not miss their wedding. The man ran down the road saying, "I'm late, I'm lost, I'm going to miss my own wedding!" The girl said, "I will help you!" And then she tore off two ribbons from her dress and gave them to the man to tie to his shoes because he was missing his shoelaces. She let him use her brother's skateboard and told him to keep his eyes open for the church. He found the church on time and he got married. He thanked the girl for her help.
I liked this story because it has a bride and a groom in it. I like weddings. My favorite character was the bride. I liked her the best because she's confidant! This reminds me of my cousin's wedding. They were missing a ring, and I found it in the mud! I helped them out like the little girl in the story.
I recommend this book kids who try to read good books. I think they would like the story.