Franklin's Class Trip
Written by Paulette Bourgeois
Illustrated by Brenda Clark
Reviewed by Allison G. (age 8) & Skyeler S. (age 7)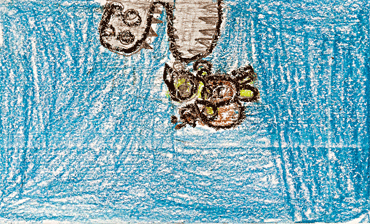 One day Franklin woke up to find it was the day of the field trip. When he got to school Beaver told him that there going to be were real dinosaurs at the museum. Franklin was scared as he turned around and was face to face with a T-rex, but then he found out is was just the bones of a dinosuar. Franklin was happy that the dinosaur wasn't a real T-rex. He couldn't wait to get home and tell his mom about his adventures.
Our favorite part of the story is when Franklin is face to face with the T-rex because he screams and it's funny. Our favorite character is Snail because he looks cool and pals around with Franklin. This story relates to our lives because we go to museums for field trips at our school. The story has pictures that show lots of details through the trip to the museum.
We think others should read this story because it is funny and will make you laugh when you read it.