Arthur's Halloween
Written by Marc Brown
Reviewed by Connor D. (age 7) & Samantha S. (age 8)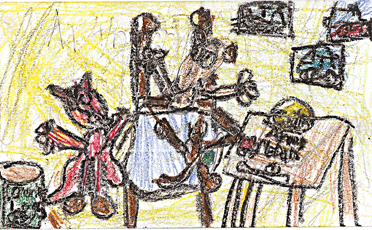 In the beginning Arthur's family was busy making the house get spooky for Halloween, so Arthur couldn't sleep that night. The next morning Arthur screamed because D.W. scared him with her costume and told him that he had to take her to every house to trick or treat. Arthur groaned about this, but his mom said he had to. At school Arthur didn't recognize anybody, but the Brain. They all went trick or treating at the witch's house, but she ended up being a nice old woman so Arthur wasn't scared anymore.
We liked the part when Arthur screamed because he looked funny with his mouth wide open. Sue Ellen is our favorite character because her costume was cool and she seems nice. This story relates to us because we decorate for Halloween and can't sleep from our spooky houses. There are pictures in the story that shows what the characters are doing.
We think others should read this book because it has wonderful pictures with lots of detail to tell the story.