Froggy Plays in the Band
Written by Jonathan London
Illustrated by Frank Remkiewicz
Reviewed by Lauren (age 8), Bryce K. (age 8), Ulysses B. (age 8) & Eric R. (age 8)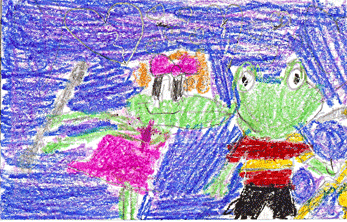 One day Froggy went to school and signed up to play in the band. His friends and a girl joined the band, too. They practiced for a week. On the special day of the parade they messed up by crashing into each other. They still ended up winning an award because they kept on playing no matter what. Froggy got a kiss on the cheek, the band got a trophy, and everyone was happy.
Our favorite part of the story is when Frogilina kisses Froggy because it looks funny and made us laugh hard. Froggy is our favorite character because he is great at playing in the band. This story relates to our lives because we love music, too. There are great pictures in this story that show all the funny things that happen with lots of detail.
We think people should read this book because it teaches you to keep going no matter what and always try to do your best.