Leprechauns Don't Play Basketball
Written by Debbie and Marcia Thorton Jones Dadey
Illustrated by John Steven Gurney
Reviewed by Steven H. (age 9)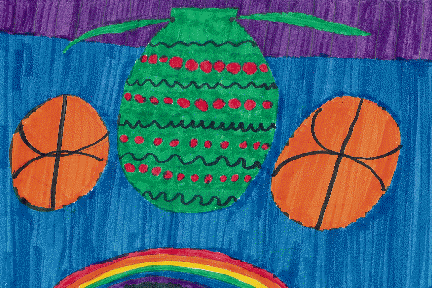 In the book Leprechauns Don't Play Basketball, there were four kids named Eddie, Howie, Melody and Liza. They have a new helper in gym class. His name is Mr. O'Grady. The kids have to find out if Mr. O'Grady is a leprechaun and if he is trying to get the green brooch around Mrs. Jeepers. The big ideas in the story are, is Mr. O'Grady a leprechaun or not? And is Mr. O'Grady trying to steal the jewel on Mrs. Jeeper's neck.
I think the book was very good. I liked the book a lot. I liked it because it has mysteries and because it was very funny.
My favorite part in the book was when Mr. O'Grady showed Eddie all of his gems in his pouch and when he used them to play basketball.
I liked the character Eddie because he was very funny and because he liked to play pranks on other people.
I recommend this book because it is surprising about what is going to happen. I think the reader should be nine to fourteen because I think they would like the book more.