Fluffy Goes to School
Written by Kate McMullan
Illustrated by Mavis Smith
Reviewed by Araceli R. (age 8)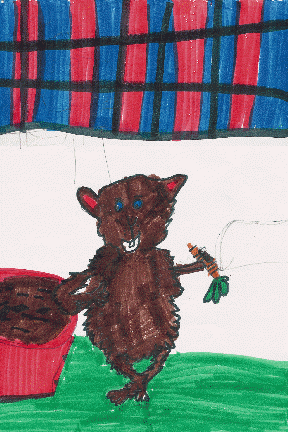 This story is about a guinea pig, and the class was picking a name for the guinea pig. They voted on it. Most of the people voted on Fluffy for a name. Then the guinea pig thought Fluffy was a different guinea pig because he didn't have a name at first. Then the teacher picked up the guinea pig and she said "say hello to Fluffy the guinea pig". He was the class pet. They made a playground for him. They dressed Fluffy in a baby outfit. They put him in his cage and then he ate a carrot and fell asleep.
My favorite part was when they put the baby clothes on Fluffy because Fluffy looked cute.
I like all of the characters because they are funny and they like guinea pigs.
Fluffy is a guinea pig, He reminds me of my guinea pig because he was the same color as Fluffy and I had a fun time playing with him, just like the kids.
I recommend that this is a great book for people my age because it is a funny book.